Choosing the right food in right proportion is very important, however it is the most difficult task for parents. This blog will help you to choose proper food group and its quantity for your child.
Try to incl

ude food w

ith different colors: 
Each color is because of natural nutrients within the food like minerals and vitamins. Try to give your child a combination of foods which are having different colors. Different colors of food will provide different nutrients like minerals and vitamins to your child.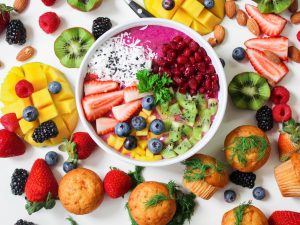 2. Carbohydrate (Roti, Breads & Rice):
This category of food will basically provide carbohydrates i.e. glucose to the child.
Role in child's diet: To provide primary source of energy i.e. glucose.
Quantity: This foods should not be overused as it lacks other nutrients like minerals and vitamins. Avoid using refined products like maida and polished rice.

Carbohydrates provides energy but are poor in micro nutrients
3. Pulses (Dal, sprouts, beans, eggs, animal food ): 
A child needs slightly higher protein diet as compared to adults because of the growing muscles and tissues.
Role in child's diet: A continuous wear and tear is going on in child's body which makes them more in need for protein.
Quantity: Simply add sprouts in snacks for 2-3 times a week along with routine home diet. This will provide them adequate protein.

Protein helps in muscle formation
4. Fats (Ghee, butter and oil):
As per dietary guidelines a child needs 25% – 30% of fat in diet.
Role in child's diet: Providing energy in form of high calories. Fat helps in absorption of fat soluble vitamins and also forms structural elements of cell wall. Excessive fat leads to obesity which is a rising concern, always keep a check on child's weight and try to incorporate foods with low fat level. Fat provides energy of 9 kcal /gm as compared to 4 kcal /gram of energy from protein and carbohydrate.
Quantity: Add ghee in home prepared food like chapati, khichdi, dal etc.

Foods like ghee, butter and oil
5. Fresh vegetable & fruits: 
Routine foods like chapati, rice, provides primarily carbohydrate and all the pulses provide protein.
Role in child's diet: Fresh vegetables and fruits have a added benefit of high amount of minerals and vitamins.
Quantity: Every day provide one fruit to your child and plenty of vegetables during meal time. For best use, try to include different fruit and vegetable throughout the week.

Eat Fresh fruits everyday
6. Milk and dairy products:
Milk is an very important portion of child's diet.
Role in child's diet: It is required for normal protein content as well as some nutrients like calcium.
Quantity: 2-3 cups of milk or milk products are enough for a 5 year old child. Be cautious, Excessive milk will prevent absorption of iron from other diet.

Milk & Milk Products
Conclusion:
Your child needs a diet with slightly higher protein as well as fat, but always be cautious with the portions of this foods. You need to balance each and every food group so that your child gets each and every nutrient in optimum amount.
How to check your child's nutrition:
Best way to check child's nutrition is by monitoring their weight and height every month. You should always plot your child's growth on a growth chart.
To track your child's growth download GrowthBook now.